20 Questions With David Haynes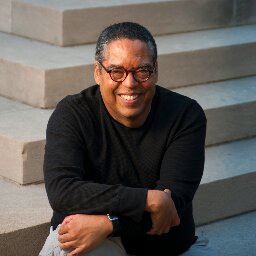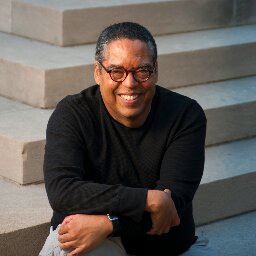 David Haynes is a true visionary. When the Dean of Southern Methodist University asked him to name the one thing he would work on if given the chance, Haynes said he would found a Center for African American fiction to increase diversity in literature and publishing. The Dean said yes, and David Haynes went to work, amassing an advisory board that reads like a Who's Who of contemporary African American literature.
The inaguaral class of the Center for African American fiction, aptly called Kimbilio, spent a week in Taos, New Mexico in June 2013. The students had the privilege of studying under ZZ Packer, Dolen Perkins-Valdez, and David Haynes himself, learning not just the craft of literature, but how to navigate a publishing world that continues to shut out authors of color, claiming the work is not "marketable."  The lessons are an invaluable resource to uplift and empower our own, because as we can see, no one else is going to do it for us. And in just a few days, the second class of Kimbilio Fellows will arrive in Taos, New Mexico for Kimbilio Year 2.
In addition to his revolutionary work in building the first ever retreat and community for African American fiction writers, David Haynes is the author of seven novels for adults and five for younger readers. His most recent novel is the critically acclaimed A Star in the Face of the Sky. Haynes was named one of America's best young novelists by Granta Magazine, has received a fellowship from the Minnesota State Arts Board, and is currently a director of the Association of Writers and Writing Programs (AWP). He is also an Associate Professor of English at Southern Methodist University where he directs the creative writing program. He teaches regularly in the Warren Wilson MFA Program for Writers and has taught in the MFA Programs at the University of Missouri-St. Louis, Hamline University, the Writer's Center in Bethesda, MD, and at the Writers' Garret in Dallas. Haynes, and several of his short stories have been read and recorded for the National Public Radio series "Selected Shorts."
KCAAF: Where did you grow up?
David Haynes: I grew up outside of St. Louis, in a small community of working class black folks surrounded on all sides by working class white folks.
KCAAF: What was that like? How did it influence you?
David Haynes: Our little "pocket" community was stable and wonderfully nurturing. Same families in the same houses for half a century or more. It's also true that that kind of insularity can also be stifling at times. This community will be the subject of the novella and stories I'm working on now.
KCAAF: Please tell us some of the books/writers you love.
David Haynes: I read widely and learn from everything I read. This past year, like much of the rest of the literary world, I've been celebrating Alice Munro. I'm a writer who thinks structurally, and Munro's work continues to teach me to think rigorously about the importance of narrative design in storytelling.
KCAAF: How did you know you wanted to be a writer?
David Haynes: I knew I would do something creative with my life. When I was in the sixth grade I was inspired (as opposed to assigned) to write a story. I turned it in and the teacher read it to the class. This was a large class where I was the only black student and was largely disdained. They really liked what I did. It didn't change much the way I was treated, but it did open a door. I went through.
KCAAF: What is the best thing about writing?
David Haynes: The surprises. The way that you can be in the middle of a chapter and something you didn't know was coming can pop onto the page.
KCAAF: Where do you write?
David Haynes: In the summer at art colonies and retreat centers or at houses that I rent in quiet, lovely locations. During the semester, at coffee shops or in my study at home or in my office at SMU. It depends on where the spirit strikes.
KCAAF: Why did you begin to write?
David Haynes: I started telling myself stories as a way of distracting and comforting myself. I think that all people who live in their head do this. I've always had a cast of characters who lives with me. They have a lot of melodramatic adventures, none of which has ever seen print.
KCAAF Can you tell us about the support you have had, the inspiration you have had—about your education as a writer?
David Haynes: I had very little support as a writer. Nothing remotely resembling formal mentorship. My education focused almost entirely on literature, humanities and teacher preparation. I took a few (horrendous) writing workshops in college and some community-based writing courses in Minnesota. One of those teachers, Carol Bly, wisely pointed out that she'd essentially given me all the tools I needed and that I should just go do it. So I did.
KCAAF: What do you enjoy about teaching?
David Haynes: I love discourse. I love it when a group of minds are engaged with each other around the table, wrestling with ideas and opening each other up to ideas they'd not have otherwise considered. I love the give and take of it.
KCAAF: How do you balance teaching and writing?
David Haynes: Balancing teaching and writing has always been a challenge. My saving grace is that I enjoy both. I'm also lucky that my creative work has always been valued by my employers, including my current job at SMU.
KCAAF: How did your newest book, A Star in The Face of the Sky, come into being?
David Haynes: About ten years ago I became obsessed with the horrible stories of parents, mostly mothers, killing their children. The inexplicable horror of it—which made me wonder also about those who are left behind. That's the subject of the book: The legacies of family and political violence. Which in an interesting way dovetailed with another subject that I return to often in my fiction, which is a question that arose from my years of teaching middle school. Fairly regularly I'd have a student in my classes who left me wondering what I'd do if he/she were my child. I'm thinking these are the kinds of kids you might love but you might not like very much.  A Star in The Face of the Sky is in some ways about parents and grandparents dealing with a range of difficult young people. They might love them, but…
KCAAF: How did the Kimbilio Center for African American Fiction come into being?
David Haynes: Writers have been talking for a long time about the need for something like Kimbilio. Some of that talk arose quite naturally out of admiration for Cave Canem and the way that organization has changed the face of contemporary poetry. I attended numerous sessions at AWP and elsewhere where fiction writers asked when their turn would come. Well, I don't know if this is our turn, but if nothing else it's my great hope that Kimbilio provide for fiction writers a sense that we are part of community and can and will continue to grow and learn from one another.
KCAAF: What do you want to say in your work?
David Haynes: "Here are some people who you may not have seen. They are also part of your world."
KCAAF: What are you obsessed with?
David Haynes: I am equally obsessed with the capacity for humans to behave wretchedly toward one-another and with the quiet moments of goodness and decency that are also all around us.
KCAAF: What do you see a center for African American fiction doing?
David Haynes: My vision is grandiose. However I also know that if Kimbilio is to grow into a real and permanent and important thing, what it becomes must be the shared dream of the larger literary community. For now, I am content with providing a place where we can gather to write and read and learn from one another.
KCAAF: What is the state of fiction in America right now?
David Haynes: Lots of fine writing, lost and at the mercy of a publishing industry that has no idea what the hell it is doing.
KCAAF: Why are so few African American writers and women writers being published?
David Haynes: The percentage of African American and other writers of color being published and reviewed accurately reflects the interest in our work of those currently in charge of the publishing industry.
KCAAF: Is there anything else you want to say about writing?
David Haynes: One other thing about Kimbilio: I am grateful to everyone who has expressed interest in the project and in particular to everyone who had worked on our behalf—including SMU English colleagues, the residency faculty, Hope Wabuke and Diana Napier and Sanderia Smith and our advisory board. I welcome anyone else who would like to be a part of this movement to contact me.
https://kimbiliofiction.com/wp-content/uploads/2022/04/wpid-cb77c6ff5367ee8761cc29229f78ce8d.png
256
256
integritive
https://kimbiliofiction.com/wp-content/uploads/2022/04/logo-white.png
integritive
2014-06-10 12:26:12
2014-06-10 12:26:12
20 Questions With David Haynes